How a frontline legal organization in Haida Gwaii is making an impact
A typical day for Hailey Chapman begins when she arrives to work at the Haida Gwaii Legal Project Society to a lineup of people patiently waiting for her.
But it comes as no surprise — as a legal advocate for the only stand-alone legal service on Haida Gwaii / X̱aaydag̱a Gwaay.yaay / X̱aayda gwaay, archipelago of nearly 5,000 people, she knows her services are in high demand. On any given day, staff at the Society assist residents with housing, applying for pensions, obtaining social assistance, navigating legal documents, and so much more.
"We live on a reserve in Northern BC with very limited legal resources so everyone comes to you for an answer. It's very busy on a daily basis but nothing is more rewarding than helping out my community," says Hailey.
The Haida Gwaii Legal Project Society has served Haida and non-Haida people in communities across the islands in some form since the early 1990s. But in 2003, when the Society's funding was at risk, the Law Foundation of BC stepped in with financial support to continue the service. The Foundation has provided support every year since, and now helps to fund staff positions at two locations — Masset and Skidegate.
Demand is high: in 2019 alone, the Society worked on more than 1,400 different cases — a significant increase from just a few years before, touching the lives of more than a quarter of Haida Gwaii residents. For the Society's small legal support team, serving the residents of Haida Gwaii involves much more than strictly legal matters — it means forming strong connections with the community, participating in Haida culture, and understanding the ongoing impact of colonization.
One of the biggest challenges for staff is helping clients receive settlements under the Indian Day School Class Action. The historic 2019 class action settlement compensates survivors of Indian Day Schools across Canada. First Nations, Inuit, and Métis people who were excluded from the Indian Residential Schools Settlement are all eligible. This issue hits close to home as two Indian Day Schools were located on Haida Gwaii.
Going through the process of registering for the settlement and getting updated on their cases can be a huge hurdle for many survivors who are now into their senior years and may be struggling with trauma. "I come into work every day knowing that I am going to help make a difference in someone's day and that makes me very happy. … Another positive thing about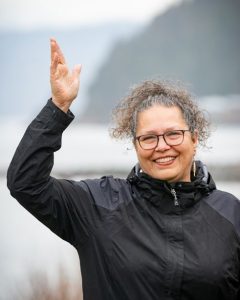 the job is how much engagement you have with the community members, organizations and agencies that all come together to help make our island better," says Hailey.
In early 2020, the Law Foundation added additional financial support to help handle the high volume of clients seeking help to access the compensation to which they are entitled.
Bev Collinson, a legal advocate who's been with the Society for nearly two decades, shared how familiarity with the community has helped her gain an understanding of their unique needs. She explained that in many of the cases she handles helping people solve "small dilemmas" — such as getting the right forms or signatures — can have a big impact. "You catch little things like that — and it just makes people's lives easier."
Photo Credit: Jason Shafto – Full Moon Photo