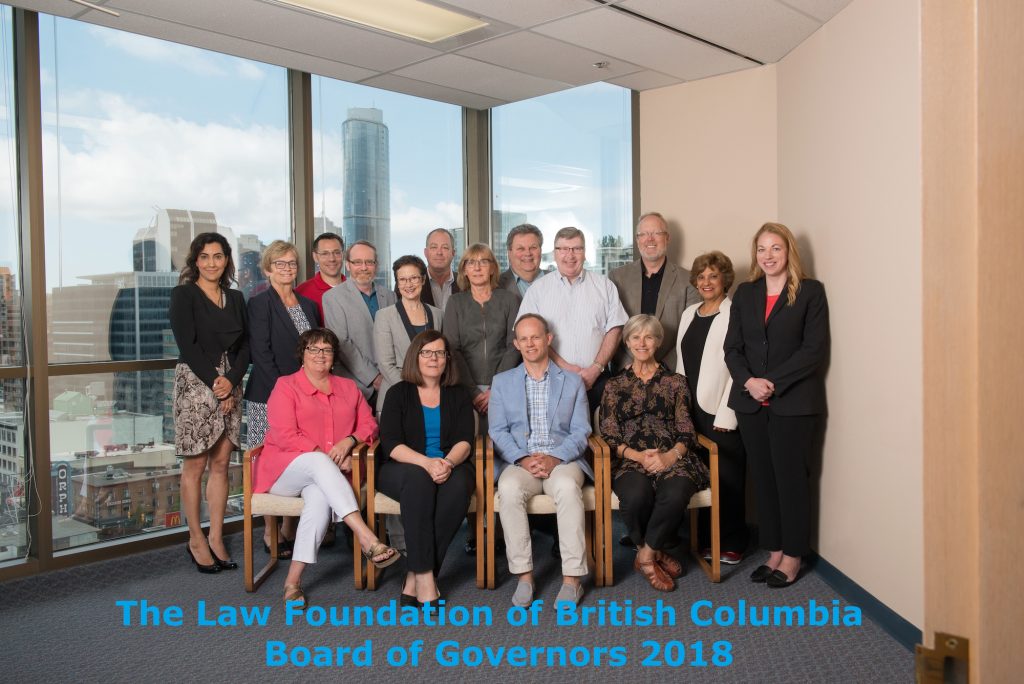 The Law Foundation of BC is administered by a Board of Governors, which is responsible for governing the Foundation and making all decisions concerning grants.
The Board has 18 volunteer members:
The Attorney General or their appointee.
3 persons, not lawyers, appointed by the Attorney General.
12 members of the Law Society of BC or the judiciary, appointed by the Benchers of the Law Society to represent the geographical areas of the province.
2 members of the Law Society appointed by the BC Branch of the Canadian Bar Association.
The Governors for 2019 are:
Geoffrey White, Chair, Kelowna
Judge Patricia Bond, Surrey
Maureen Buchan, Vancouver
Felicia Ciolfitto, Vancouver
Justice Thomas Crabtree, Chilliwack
John Greschner, Victoria
Kathy Kendall, Kamloops
Lindsay LeBlanc, Victoria
Jan Lindsay, QC, Vancouver
Deanna Ludowicz, QC, Grand Forks
Sean Rowell, Smithers
Zulie Sachedina, Vancouver
Kurt Sandstrom, QC, Victoria
W. Laurence Scott, QC, New Westminster
James Sullivan, QC, Vancouver
Eileen Vanderburgh, Vancouver
William Younie, QC, Duncan
Robert Zeunert, Prince George
The Law Foundation is independent of the government, the Law Society of British Columbia and the BC Branch of the Canadian Bar Association, although its Governors are appointed by these bodies.
The Board has 5 standing committees:
Class Actions
Fellowships and Research
Finance and Administration
New Grants
Policy and Planning
The Board and the Committees meet regularly during the year.
A staff of 13 assists the Board; learn more about the Foundation's staff.