Indigenous Community Legal Clinic Celebrates 25 years
For the past 25 years, the Indigenous Community Legal Clinic (ICLC) has become known for its decolonizing approach to legal education, grounded in connection to BC's Indigenous communities.
First established in 1995 at the University of British Columbia law school, the ICLC started as a small legal clinic running out of a storefront in Vancouver's Downtown Eastside. The clinic provided pro bono legal services to self-identified Indigenous people in Vancouver and across BC, while also providing an opportunity for students to gain experience in Indigenous legal issues. In the early days when the clinic was relatively unknown to the Downtown Eastside community, staff would walk down to the courthouse on Main Street in search of people in need of legal support.
The ICLC has grown tremendously since then, and recently celebrated its 25th anniversary. Academic Director Patricia Barkaskas says the aim of the clinic has remained the same through the years — to serve the Indigenous community, and to educate the next generation of lawyers in a decolonizing approach to law that incorporates Indigenous knowledge and practices.
"Deconstructing all of the normative violence of legal education and colonial education is a big part of what students come to the clinic to do," says Barkaskas, who first began working at the clinic in 2010 as a student clinician, and then as an assistant lawyer after she was called to the bar in 2012.
"They're also providing excellent legal services to our clients, of course, but doing it in the way they do — that is what really matters."
In recent years, the clinic has been able to forge connections with Indigenous communities outside of Vancouver. In 2018, with the funding provided by an anonymous donor, the ICLC began a Travelling Clinic program that allows students to bring legal services to more remote parts of the province such as Bella Bella and Bella Coola. The ICLC has also taken on Indian Day School settlement applications: demand has been so extensive that they had to take on an additional full-time articling student to help manage the demand.
To Barkaskas, having both Indigenous and non-Indigenous students at the clinic is important. "From my perspective, Indigenous students come to the clinic and they bring their own decolonizing knowledge and thinking, and that's an amazing thing," she said. "But it's also really important that non-Indigenous students are doing this work and learning how to do it from the context of settler harm-reduction, decolonization and Indigenization."
Barkaskas says that many students have gone on to pursue careers in Indigenous law — but even for those who choose not to, what they learn at the clinic can be carried with them throughout their careers. "More importantly, all students who move forward into law are practising in a way that has some Indigenous cultural competency, they're doing it with a sense of some cultural humility and with an awareness of Indigenous cultures and laws," she said.
Barkaskas says that over the years, the ICLC has developed a relationship of accountability with the Indigenous communities they serve — and through that, created meaningful change for both clients and students alike.
"As an Indigenous woman, it matters so much that this work is being done," she said. "It matters, even when it's imperfect and we have to respond by changing and adapting, and doing better and doing different. I've seen the evidence of that over and over and over again in the lives of our clients and of our students."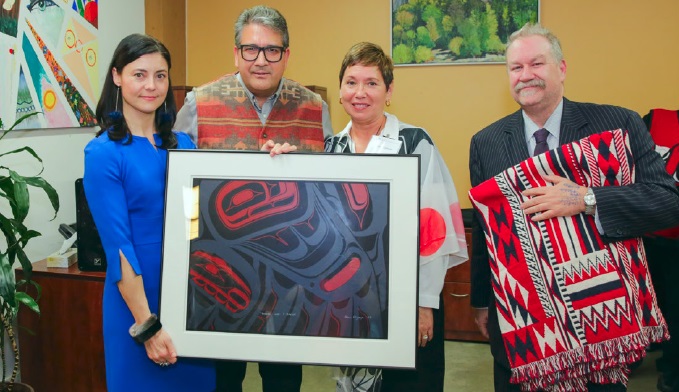 Darwin Hanna and Cynthia Callison, long-time supporters and members of the ICLC's first cohort, presenting gifts at the ICLC 25th anniversary event to Patricia Barkaskas and Mark Gervin, Director of Legal Services.
Print: Alano Edzerza, Tahltan, "Thinking Like a Raven."
Blanket: Coast Salish from Musqueam (unattributed).